Classic Buggy and Beetle
Hand picked full range parts & accessories that we know fit and last. Windscreens, rollover bars, hard tops, seats, lights the list goes on. If its not shown here then there is a good chance we have it or can source it or at least tell you the best place to get it.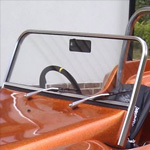 Highest quality, fully polished aluminium windscreen frame fitted with laminated safety glass. Manufactured in the USA and supplied to Bugpack and EMPI. Comes complete with screen to body rubber seal. Available in heights of 12″, 14″ and 16″ for 42″ wide dashboards. These screens can be made to fit GP and other similar buggies with minimal effort.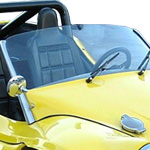 Originally found on Renault daulphines, the Bounty Hunter windscreens are now made brand new by Pilkington Glass. Screens are laminated safety glass, and are available with a range of coloured tints and coloured sun strips in the laminate itself. Screen posts are very strong solid cast aluminium items which bolt to the side of the bonnet and have a deep groove to hold the screen. Posts are available as bare castings or with a polished finish.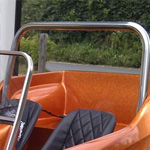 Manx single roll over bars are now reproduced to exact specifications as the originals, Made from high quality fully polished stainless steel tubing with brackets fitted to bolt to the floor and side of the body tub.
Buggy Hard Tops were originally designed for shade from the hot California sun. Now available in the UK they offer protection from the elements and give your Buggy a whole different look. Mounted and removed in seconds, they also cut down wind for the driver and passengers on journeys. Hard Tops come in a vinyl effect gel coat finish and are available in a range of colours. Can be fitted to GP and similar buggies with minimal modification.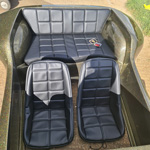 American style bucket seats are perfect for your Buggy, Kit Car or retro styled Race Car. Glass fibre seat buckets are flat bottomed, making the easy to fit to your Volkswagen or almost any runners. Available in any colour, including all the Metal Flake finishes to match your Buggy. Padded covers slip on in seconds and fasten at the bottom with a drawstring, if your buggy gets caught out in the rain, simply remove the covers and keep them dry. Covers are available in Black or Tan, with either Diamond Pattern or Fat Biscuit (square) style stitching.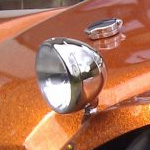 Best quality chromed brass headlight shells fitted with sealed beam unit, with full dim and dip function. Available in 7″ and 5.5″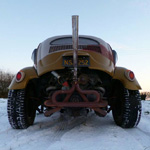 The Original American style Bug Eyed Baja kits, favourite of the Baja Desert Racers of the Seventies. Seven Piece kit includes four wings, front panel, bonnet and engine cover. Use of standard beetle upright headlights is required. Also available are Baja roof scoops used for keeping air filters or oil coolers up and out of the dust and give your Baja a more purposeful, off road look.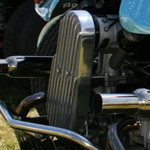 Pulley covers are a must for exposed buggy or Baja engines to reduce danger of getting fingers caught in the fan belt, and are essential for MOT tests.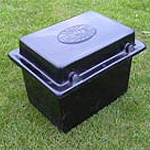 Excellent for keeping your battery safe and dry in your buggy, and essential equipment for race series? such as the VWDRC.